On Time!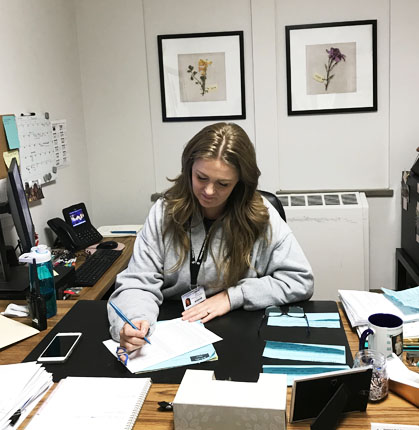 At 7:30 in the morning, Ms. Ieremia is arriving at Fenwick, ready to begin a new day as Dean of Students. She is already wide awake after her morning of getting her two children ready and dropping them off for the day before heading to work. She sits down in her office to start working on paperwork before the school day begins. She spends the first portion of her morning checking JUG attendance from the previous day and reports students who misses their JUG.
Once the students arrive and the school days begins, she becomes increasingly busy as teachers take attendance and submit the names of missing students to her office.
As she receives the daily attendance, she works through the names of absent students and records the reasons for their absence. If a student is missing and the school has not received a call regarding their absence, Ieremia will call the student's home or parents to inquire about that student.
Following up with parents takes most of the morning, and she tries to finish before Fourth Period lunch. She enjoys going to all lunch periods, and she usually tries to make time in her schedule to at least stop by during each of the three lunches. Lunch provides an opportunity for her to interact with students in a less structured atmosphere and to connect the names she sees every morning on the attendance to faces of the students in the cafeteria.
In between lunch periods, she finishes up paperwork from the morning and works on other various projects. Since the quarter has just wrapped up, she has been working on a summary of all the absences so far this year. She compiles information on each student, including number of missed school days and reasons for missing.
For students who have a record of repeated absences, or students who have missed more than ten percent of the quarter, she sends a report of their information to the parents. These reports are meant to notify the parents and also to warn the students against missing repeatedly. She will eventually meet with some students who have an unusually high number of absences to express the need to be in school. For most of these meetings she notes that they have an all-or-nothing effect on the students. Either the absences will end or there will be no change in that student's behavior.
Ieremia completely enjoys her job here, and she loves to see how students change over their four years. Seeing students grow and develop in their academics and in their characters is wonderful to witness, and it is the most rewarding part of her job.
By the end of the day, Ieremia has compiled the day's attendance, followed up with parents, worked on a major quarterly project, and still made it to each lunch period, but her day is not over yet. She stays after the school day has ended to proctor JUG, and the attendance sheet she passes around today will help her tomorrow in discovering which students skipped their JUGs.
After JUG ends, she goes back to her office to finish up any work that she did not finish during the day. Around four o'clock she packs up her things and leaves for the day. Sometimes she attends school events such as basketball or football games. She, Dr. Quaid, Mr. Moland, and Mr. Groom rotate events, so tonight she goes home to spend time with her family before tomorrow when she will begin a new day as Dean of Students.