On Changing Tactics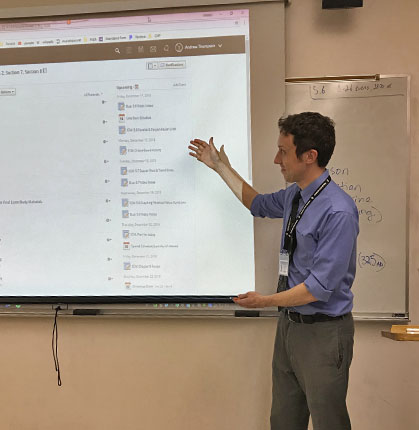 Almost two hours before most students begin the day, Mr. Thompson is arriving early at Fenwick to work some trombone practice into his busy schedule. His daily schedule begins at 7 o'clock with his jazz band students, but he prefers to get in a bit early in order to practice. He has been playing the trombone for years, and he sometimes gives lessons to students in his free time.
Once his jazz band students arrive, he puts down his trombone and picks up his conducting baton. He works through their current pieces and stops occasionally to point out mistakes or give advice to his students. He chooses the musical pieces that the band practices and performs, and it often takes some time to find a piece that his students will be able to perform and with which he is really comfortable.
Shortly after jazz band ends, First Period begins, and throughout the school day Thompson transitions between acting as a music teacher and a math teacher. In total he teaches three music classes and three algebra classes. Mostly, his music classes all run the same way as his early morning jazz band, but he takes a unique approach to teaching his freshman algebra students.
In his algebra classes, Thompson follows the flipped classroom model, which is a method of teaching that reverses the traditional classroom format. In his flipped classroom, Thompson instructs his students to watch recorded lectures at home, and then in class he is available to answer questions while students complete practice problems from the textbook. This style allows him to use class time to work with students on the concepts that they do not understand, instead of teaching the basics and forcing them to figure out the difficult pieces on their own later.
In between his six different classes, Thompson barely has a chance to catch his break, and he always has a running to-do list. He has more than just his classes to worry about, though. He also conducts Fenwick's extracurricular bands, and he can be seen with them at many events like football or basketball games.
As much as he enjoys his job, he tries to finish his work before he arrives home at night, but he is involved with so many aspects of Fenwick that he usually ends up taking his work home with him. He waits to start working again until after his two young children have gone to bed, so that he can take a break from thinking about work and spend time with his family.
Thompson runs a tightly-packed schedule, and between music and teaching, he always has something going on. He can be seen walking through the halls on any given day, moving between classes and thinking about which musical piece his band will be playing next.
No matter what song he chooses, he always ends his day on a good note.