Senior Athlete Profile: Beau Vanderlaan '21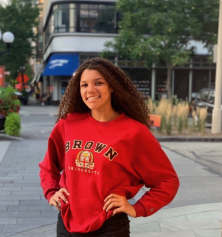 Brown University volleyball commit Beau Vanderlaan is truly one of a kind. From her leadership on the court to her dedication in the classroom, Vanderlaan displays many inspiring qualities. After picking up a volleyball for the first time in seventh grade, she fell in love with the sport. Years and years of hard work, determination, and discipline have broadened Vanderlaan's horizons and have exposed her to countless opportunities, including being able to play Division I volleyball. 
     Not only does Vanderlaan have skill, but her selflessness and leadership shine brightly on and off the court. Coach O'Laughlin has commented, "We knew the day Beau walked into our gym she was something special. Immediately you could see her love of the sport and the intensity of her work ethic. She has been an excellent leader and teammate always adding energy to the court or bench." With a total of 144 kills and 123 blocks during last year's season, O'Laughlin said, "Beau is not only a threat in the front court but in the back court as well, making her a unique and difficult player to defend. We will surely miss her next year, but Brown University is getting a real gem both in the gym and in the classroom!" Vanderlaan has left an everlasting mark on Fenwick, and she will continue to be an inspiration for many! 
Q&A with Beau: 
The Wick: How has Fenwick shaped you into the person you are today both on and off the court? 
Beau Vanderlaan (BV): Fenwick, along with my volleyball club, taught me the definition of discipline and dedication. At Fenwick, I learned how to manage my time in order to gain as much success as possible in my volleyball career, but also maintain my grades whilst having a social life. There are times during the year where I would have practice every day, conditioning/lifting twice a week, and private lessons once a week while keeping up with studies and participating in clubs. While that seems like a lot, Fenwick helped me realize what I could and could not do, and organize my life so it was balanced and manageable. 
Wick: What has been your biggest motivation to succeed in your volleyball career? 
BV: My family 100 percent, both immediate and extended. When I first picked up a volleyball in seventh grade, let me tell you, it was laughable but I just loved it. My parents never missed a game or tournament if they could help it. My grandparents on both my mom's and dad's side[s] have always been my biggest fans. Unfortunately, they all live a decent ways away and can't always watch me play in person, so my personal biggest goal in life was to get to the level where I would play on TV so they could watch it from their living rooms. My grandparents on my dad's side recently passed which was tough, but it just makes me want to reach that goal even more because I know they're still cheering for me. 
Wick: What has been your favorite memory about Fenwick Volleyball and about Fenwick in general? 
BV: My favorite memory about Fenwick Volleyball was beating OPRF my freshman year. That was my first varsity game and I've never been more nervous. Hearing Friar Nation cheer for something I was included in felt like the stereotypical high school moment you see in movies. It was a great introduction to Fenwick. 
Wick: Why did you choose to commit to Brown, and when did you know that you wanted to play college volleyball? 
BV: When I started playing volleyball, I didn't even think college volleyball was an option at all. It wasn't until I got my first college email my freshman year that I realized I could actually do this for longer. Since then, I have never once imagined a world where I don't play volleyball in college. As for Brown, I could go on for pages. Not only was the team incredibly welcoming, but Coach Ahen is exactly the type of coach I need to truly accelerate my game. I was able to visit Brown before COVID hit, and as soon as I stepped on campus, everyone just seemed so happy and truly excited to learn. 
Wick: What are you most looking forward to during the rest of your senior year?
BV: I just really can't wait for our practices to start, especially because I haven't seen some of my teammates all year and I'm very excited to see what we're going to accomplish. 
Wick: How have your coaches shaped you into who you are? 
BV: I owe my coaches SO much. Coach O'Laughlin took a chance on the tall, uncoordinated girl and helped build my confidence and aggressiveness on the court. My nickname freshman year (which I found out later haha) was "Bambi on ice" because of how just all over the place I was. She taught me how to control and isolate my movements. She pushed me even when I wanted to push back and I cannot thank her enough for that. 
Wick: How have your teammates impacted your volleyball career and how have they affected you? 
BV: When I was an underclassman, I looked up to (and still look up to) Margaret Planek and McKenzie Moorman. Not only was their skill level incredible, they had this natural sense of leadership I was astonished by. I knew when I became captain, I had incredible shoes to fill. 
Wick: Is there one moment you can recall that has been the most influential/memorable in your volleyball or school career?
BV: One moment I distinctly remember was when I got my offer from Brown, I told my lunch table (I'm not quite sure I was even supposed to tell anyone hahaha) and they all cheered and were genuinely happy for me. It just made me realize how much of a community Fenwick really is. I can honestly say I've made some lifelong friends here.