NHS Recognizes Mr. Torres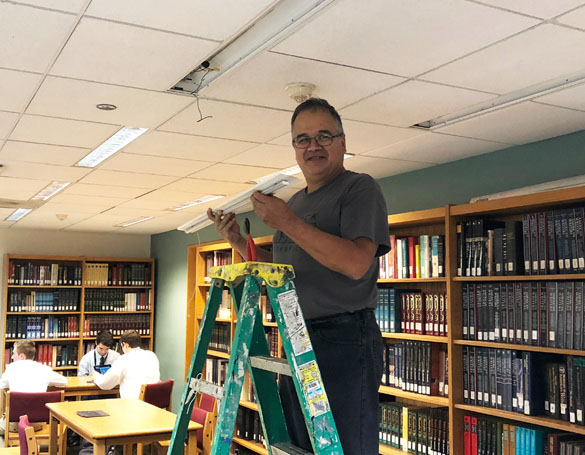 Hang on for a minute...we're trying to find some more stories you might like.
On Sunday, October 14th, at the National Honor Society Induction ceremony, Mr. Rafael Torres was awarded the NHS Achievement Award. Yet, the recipient was not in attendance. In a display of his unwavering humility, Mr. Torres accepted the honor without the applause.
Mr. Torres, a senior member of the maintenance staff, received the award that honors the four NHS pillars: Scholarship, Leadership, Service, and Character. According to Mr. Groom, Torres was chosen as this year's recipient for several reasons, including his dedication to the community, intelligence, and integrity. Mr. Groom notes, "Mr. Torres is a selfless human being. He is always willing to help out those that need it."
Mr. Torres, distinguishable to everyone by his smile, works in the maitenance department. As part of his job, he does various technical things around the school. Torres oversees everything– from the boilers to the cables to the air conditioners. Mr. Groom comments, " His understanding of the infrastructure of our school is unparalleled." His duty is to ensure everything is working properly, and if it isn't, to fix the problem.
Torres can be taking out garbage one minute and fixing the lights in the library the next. He is on call at all times. When something breaks or malfunctions, Mr. Ruffino, the Director of Operations, gets a notification on his computer. The message then reaches Mr. Torres, who heads to the scene with help.
Ruffino, who works very closely with Torres, calls him the "school engineer." He notes that Mr. Torres handles the intricate mechanisms that allow Fenwick to function with ease. Ruffino warmly notes that Torres "is the heart of the department" and that his "smile, personality, and aggressiveness to solve problems make him a joy to work with."
Torres also helps with minor issues, like unlocking lockers and opening students cars when they lock their keys in. Torres says that he's very appreciative of students' gratitude, laughing as he notes that some even give him cookies.
Mr. Torres is someone who doesn't refuse anyone anything. According to everyone who comes in contact with him, his demonstration of work ethic, character, and sense of community make him one of the most valued staff members. Next time you see Mr. Torres undoubtedly displaying his famous smile, offer him a smile back.