Twenty Øne Piløts Rise from the Trenches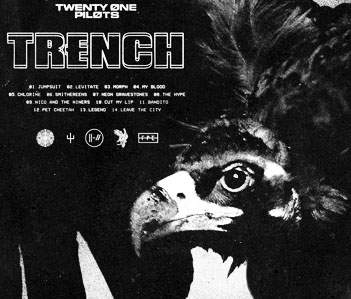 October 5, 2018: after three years, millions of new fans, and a boatload of hype, Twenty Øne Piløts finally ends their extended hiatus with the release of their fifth album: Trench.
Although the album's unique blend of hip-hop, pop, rock, and alternative influences immediately distinguish the album, its in-depth sense of storytelling truly sets it apart from the countless albums being released every week. Trench (and presumably Blurryface and the TØP single, Heathens) chronicles the journey of Tyler Joseph as he attempts to rebel against the society known as Dema. Nine bishops lead Dema, and are in turn led by Nicholas Bourbaki, who goes by Nico for short. Interestingly, his name originates from the pseudonym of a group of mathematicians founded in 1952, who created the symbol for a null set (Ø), which Twenty Øne Piløts frequently uses in their publishing and merchandise. All three of the new music videos lay out Tyler's battle against Dema, and reference one of their earliest songs, entitled A Car, a Torch, a Death. The first music video (Jumpsuit) features Tyler rapping on top of a burning car. The second video (Nico and the Niners) features the rebels marching in with torches. And the third video (Levitate) ends with Tyler being dragged away by Nico, where he presumably dies. The intricacies of the narrative are impressive to say the least. The music, of course, follows suit.
The most well-crafted song on the album is certainly Legend. On its surface, the song seems upbeat and happy, but the musical tones betray its underlying meaning. The overall message of the song consists of Tyler expressing regret at not bonding with his grandfather more before he passed away. His grandfather, Robert Joseph, appeared on the album cover of Vessel, which possibly explains the use of ukulele in the song, which was a dominant sound throughout vessel. The lyrics strike profoundly at the heart of the listener, and listeners are nearly guaranteed to tear up as Tyler sings the final line "I look forward to having a lunch with you again."
Overall, the album displays a variety of gorgeous tonalities, and the message behind each song contributes to the overall image and vision of Twenty Øne Piløts. Avoiding this album presents itself as a nearly impossible task, but nevertheless, the album clearly merits an attentive listen-through from any fan of quality music.