Visteen Takes on Counselor Role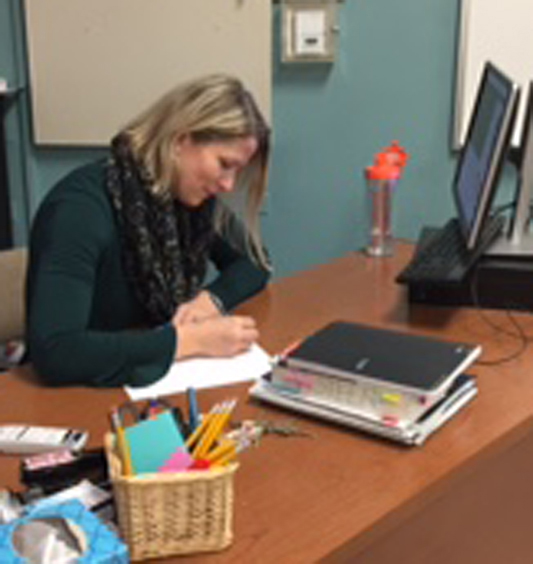 Hang on for a minute...we're trying to find some more stories you might like.
After exclusively acting as an English teacher at Fenwick last year, Ms. Visteen has now taken on a new role as guidance counselor to the class of 2018. She agreed to help out this year as Mr. Zelasko's replacement when his original replacement backed out at the last minute this summer.
Ms. Visteen has been a teacher at Fenwick for many years, and she has excelled in the English department since she first came here. She insists that English has always been her strongest area when it comes to school work, even when she was in high school.
Though she never intented to become a counselor and never excepted to become one, Ms. Visten accepted her new role graciously, and she has enjoyed facing every exciting new challenge. Ms. Visteen has come to love any profession in which she is able to positively impact the lives of teenagers, counseling being one such profession.
Visteen's priority is for any student under her guidance is to have a "healthy mind for strong academics." She acknowledges that this can be hard to achieve, given that most of her students "feel the need to take harder classes, get less sleep, participate in more activities, and say 'yes' to everything that comes their way."
However difficult the scholastic climate may be, Visteen thinks it important to take a moment to relax and smile which is something she fortunately have seen many Fenwick students recently learning to do.
One aspect of counseling in particular that Ms. Visteen values is the ability to work personally with students. She considers hands on interactions with the students extremely important. These one on one meetings allow her to "hear about students' lives and interests, goals and ideas…and better yet, help them achieve those goals." She acknowledges that such things are not always viewed as completely necessary and of prime importance in a typical classroom setting.
Another critical aspect of being a counselor is pushing her students to be their best and try their best in everything that they do. Whether it's in the classroom or on the field, Ms. Visteen believes that all her students can acheive more than they think they can.
A large and important part of her job this year has been to help the seniors apply to colleges, send in their transcripts and tests scores, and decide what schools to apply to. This responiblity can be trying and difficult, especially when the seniors do not do what they're supposed to do.
When considering the challenges that accompanied this position change, Visteen admits that counseling has been a "different beast" than she had ever imagined. Being a mom, teacher, wife, coach and mentor has given Visteen the ability to multi-task with ease. Visteen remarks that as a counselor, "you have to be really organized all the time," and though she prides herself on her organization, she has "never experienced it to this level."
In addition to being the new counselor of the current senior class, Ms. Visteen is also the sole teacher of an elective English class. She manages to fit one class of APLAC, or AP Langauge and Compostion, into her busy schedule.
There are only fourteen students in this class, but to those who do take it, it offers a great opportunity to learn proper writing and rhetoric skills and to become a better and more educated writer overall. Many APLAC students use their knowledge of rhetoric to write exquisite college essays. The class is made up of juniors and seniors, and it is Ms. Visteen's favorite class to teach.
Her new role as a counselor has confirmed for Ms. Visteen that "Fenwick students are special; they are driven, they are competitive and they are funny." She looks forward to seeing such wonderful traits in next year's freshman class as she follows them through their four years as Friars.