New Version of Our Only Team Taught Course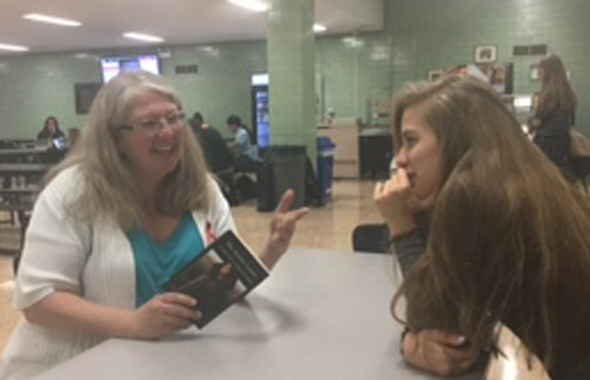 Hang on for a minute...we're trying to find some more stories you might like.
The American Studies course here at Fenwick combines the classes of American History and American Literature into one course. This class, offered to students in their junior year of high school, is designed to connect the subjects of history and English so students can better understand how the two relate and to provide the student with a full understanding of American culture over the years.
This unique course veers from the typical path in the Fenwick curriculum as it is a two period class with two separate teachers. The class can be taken during junior year as an alternative to taking two separate classes: American History and American Literature.
While the American Studies class is taught by two different teachers just as if it were two separate classes, the teachers of the American studies course work together to create a class that takes both subjects into account. By scheduling lectures and discussions together, this course helps make social movements and the feelings of Americans throughout history more understandable through connecting events and literary works of the same time period.
The class is taught by two well educated teachers. The teacher in charge of the English related portion is Ms. Magrady, a well-versed English teacher here at Fenwick who understands how the two subjects are closely connected and how they can be blended to create a better understanding for the student.
The teacher in charge of the American history material is Fenwick newcomer, Mr. Wieckiewicz. A graduated Friar himself, Mr. Wieckiewicz is also a moderator for the debate team under Ms. Logas and has proved himself to be a knowledgeable teacher in all things political and historical.
While Mr. Wieckiewicz and Mrs. Magrady teach separately, Mrs. Magrady admitted, "we plan together every week, and we enjoy whole class, critical reading opportunities."
While many students and teachers appreciate the structure and goals of the American Studies course, any other classes structured like this one would be impossible to schedule due to the yearly requirements. With no two other courses lining up in terms of years when they are studied, the American Studies class is one that cannot be missed, as it is the only class at Fenwick that combines two distinct yet clearly connected subjects.
The purpose of any class here at Fenwick is to first and foremost, inform the students about something new. With this goal in mind, the American Studies course was developed to best educate students who wanted a more connected picture on the American culture and how it developed.
Most teachers will agree that certain events cannot transpire without influential novels, essays, and other literary works published during that specific time period. Many historical events were sparked by inspiring literary publications designed to elicit responses from people or to make them ponder the situation in which they find themselves.
With these two subjects feeding into one another all throughout history, the creation of the American Studies course seemed to benefit students looking to get the full picture of American culture.
Students who have taken the class have found it to be beneficial in connecting ideas and patterns that are otherwise not made clear by simply taking the typical schedule which consists of two separate classes.
To better understand the course and how it functions, Mrs. Magrady divulged some information about her experience as one of the teachers. She described the unique examination of the influences between history and literature in American. Mrs. Magrady emphasized that the class, "will provide a thematic survey of the political and social history of the United States and its influence on American literature."
The class is well structured by Ms. Magrady and Mr. Wieckiewicz, and they work tirelessly to give students a better perspective on American culture than they would not receive in separate classes, offering an interesting alternative to those wishing to gain the best understanding of American cultures, both past and present.